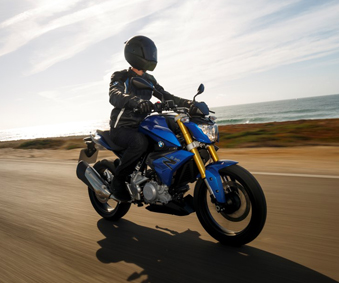 Motorbikes Burlington
Looking for motorbikes Burlington is made easy if you visit Budds' Motorrad Burlington. We offer a huge variety of motorbikes Burlington and our representatives can assist you in finding the right motorbike for you. Whatever your riding preference is, there is a motorbike for you at Budds' Motorrad Burlington. Sports bikes, tour bikes, heritage bikes, adventure bikes, and roadster bikes are all in our inventory. Our experienced and friendly representatives will be able to answer any of your questions and narrow down your motorbikes Burlington search.
Tour Bikes.
A tour bike is used for touring or travelling far distances. It is meant for comfort during long rides and has features that allow the driver to have a pleasurable driving experience. Tour bikes most commonly have large displacement fairings and windshields to block wind and protect the drive from weather conditions. Tour motorbikes Burlington also have bigger fuel tanks for long ranges between fill-ups, and offer a more upright seating position to offer more comfort for the drive on long bike rides. Budds' Motorrad Burlington has many tour bikes in their inventory and we encourage you to come into the dealership to check out our stock.
Sport Bikes.
BMW Motorrad has many different kinds of sport bikes in our inventory. A sports bike is optimized for speed, acceleration, braking, and cornering on paved roads. A rider will usually forfeit comfort and fuel economy in order to accommodate the aspects of a sports motorbikes Burlington. Rider ergonomics typically favour the main function of sport bikes. This means the footpegs are positioned higher moving the legs closer to the body of the bike, and a lower reach to the hand controls. A rider's body will be positioned more over the fuel tank. Sport motorbikes Burlington also have high-performance engines that rest on a lightweight frame that gives the bike power and maneuverability.
Roadster Bikes.
Roadster bikes, or more commonly known as 'standard' bikes, are versatile, general purpose street motorbikes Burlington. These motorbikes offer the rider a more upright seating position combined with handlebars and footpegs that allow for a comfortable ride. They also do not have a windshield of any kind to block the weather elements. Roadster or standard motorbikes, also have a longer flatter seat with only one headlamp and no fairing. These are great bikes for beginner riders and are very capable of driving in a variety of different conditions. They have mid-range engine sizes and are fairly reasonable in price for new buyers. If you are looking for motorbikes Burlington as a beginner rider not wanting to spend top dollar, these bikes are for you.
These are just a few types of motorbikes Burlington that Budds' Motorrad has in stock. If you would like more information about which kind of bike you should purchase for yourself, please feel free to come into our dealership and speak to one of our friendly representatives. We are here to help you, and we offer our customers outstanding service from the moment you step foot into the dealership.