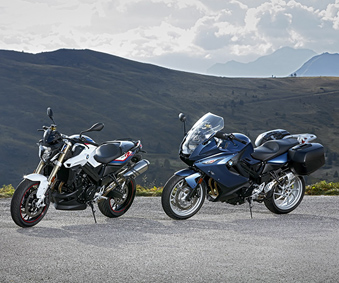 Motorbikes Milton
Are you and avid motorbike rider? Are you living in the Milton area and trying to look for a new motorcycle? Well if this sounds like you, we recommend that you come into Budds' Motorrad and check out our stock of quality motorbikes Milton. We have got what you need, and you will be able to find the motorbike of your dreams that suits your riding style. Our exceptional driving machines are known world wide as being the highest quality motorcycles in the industry, and you need not sacrifice quality with Budds' Motorrad. Our stock of motorbikes Milton is impressive because of how many types of motorcycles we provide to our valued customers. Budds' Motorrad understands that their are many types of riders, and many types of bikes that go with these riders, and we have facilitated a place where customers can come to find a motorbike that suits their style. Our motorbikes Milton are inspected and tested thoroughly to ensure that they meet manufacturer and dealer standards before we sell them to our valued clients. Doing this guarantees that our clients are receiving the most top quality automobiles, and the most top quality customer service.
Motorbike Service – Budds' Motorrad.
Budds' Motorrad has certified master mechanics and professionally trained service technicians that are very knowledgeable and capable of maintaining the optimal driving performance of your motorbike. Your bike is in the safest hands when you bring it to Budds' Motorrad to be serviced; you are making the best decision possible. As a customer, you can trust our qualified technicians to provide the highest standards of performance for your motorcycle in Milton. This comes standard with any type of motorcycle our customers chose to purchase from Budds' Motorrad. Quality customer service and maintenance comes with our quality selection of BMW motorbikes Milton, you get the full treatment with us.
Educating Riders about Motorbikes Milton.
Not only does Budds' Motorrad provide top quality motorbikes Milton for our valued customers, along with great service and maintenance, but we also pride ourselves on making sure our beginner riders are educated on how to ride their motorbikes in Milton, and the road rules. On our Budds' Motorrad website, you can click on and sign up for a motorcycle training course. This is beneficial for beginner riders because the training course will teach you how to operate your motorcycle safely, and how to ride your motorcycle on public roads. Training courses like Rider Training Institute, Niagara College Motorcycle Training Program, Halton-Peel Motorcycle Training Organization, and Humber Motorcycle Training are all programs you can enter from our Budds' Motorrad website.
If you are living in the Milton area and you are looking for motorbikes Milton with great customer service, care, and maintenance, we recommend coming into a Budds' Motorrad dealership today! Or visiting our website.