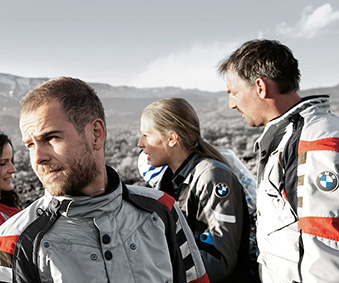 Motorcycle Accessories Milton
If you are living in the Milton area and you are looking for motorcycle accessories Milton for your bike or your body while you are riding your bike, Budds' Motorrad has got what you need. Budds' Motorrad has a huge stock of equipment and parts that you can choose from to change the look of your motorcycle, improve the performance of your motorcycle, make your motocycle sound a certain way, and make you as the rider look stylish and safe at the same time while you ride. Getting to your destination swiftly, relaxed and in style is made easy at Budds' Motorrad with our selection of quality motorcycle accessories Milton. Our inventory of authentic equipment offers our clients limitless riding pleasure, along with an established sense of style.
Your BMW motorcycle is an amusement park for your senses. The way the motorcycle looks, sounds, and feels, all come together to provide the rider with an exhilarating driving experience. Ensuring the long term quality of your motorcycle depends on your ability to maintain and repair your bike with genuine high quality BMW motorcycle accessories Milton. Accessories for a motorcycle can range from parts that you add to your bike, navigation applications, or apparel for the rider. Budds' Motorrad has plenty of motorcycle accessories Milton in stock, and you can customize your bike and your style any way you'd like.
Motorcycle Accessories Milton – Safety Equipment and Apparel.
No matter what kind of motorcycle you own and no matter how you drive that motorcycle, it is mostly important to have safety as a number one specification. Safety is key when you are operating such a powerful, responsive and evasive machine, and you can have a combination of safety and style while you ride.
Helmets:
Helmets are a legal requirement in Ontario in order to ride a motorcycle. Budds' Motorrad has a variety of different styles of helmets that you can choose from. Looking stylish is also a prefered characteristic when riding a motorcycle, and we can fit you with a helmet that suits your style.
Motorcycle Suits:
Motorcycle suits are important to protect your body in the result of an accident while on your motorcycle that ejects you. They are made by heavy materials like leather or kevlar, and they come in a wide range of styles as well.
Boots & Gloves:
Wearing protective boots and gloves will also benefit you in the case of an accident or even bad weather. You can add these articles to your look for your motorcycle and have the added feature of safety.
If you are an avid motorcycle rider in Milton, and you are looking for quality motorcycle accessories Milton that provides you with safety and style, we recommend that you visit Budds' Motorrad today. We have a huge stock of motorcycle accessories Milton that you can choose from that will enhance your motorcycle performance, sound, and look.