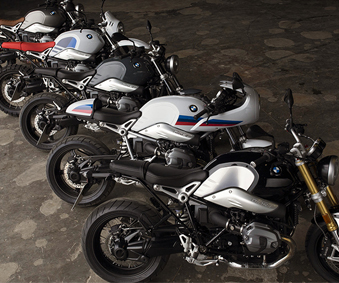 Motorcycle Dealer Burlington
Budds' Motorrad is the leading motorcycle dealer in the Burlington area. With fascinating, dynamic motorcycles that deliver on the promise of the ultimate driving machine, Budds' Motorrad has it all. We have everything from luxury touring motorcycles to fashionable urban bikes. Our professional associates are available to answer any questions you have and to get you out on a bike for a test drive. At Budd's Motorrad, our goal is to provide you with a world-class customer experience.
Arriving Soon: BMW R NineT Scrambler
Coming soon to Budds' Motorrad is the BMW R NineT Scrambler. The handlebars are placed higher than the R nineT and the seat has also been repositioned, enabling an assured but relaxed sitting position. When you get out for a test drive, the first thing you'll notice is its unique sound. Its classic 1200 ccm boxer engine and high-positioned dual silencer gives the bike its attention grabbing voice and powerful propulsion.
The comfort and technological advances in the R nineT are designed to keep you riding longer. Its off-road tires, high-positioned exhaust system and relaxed upright sitting position make that easy. An instant classic with a 19 inch front wheel, analogue tachometer and steel tank in monolith metallic matt, you'll be the envy on your street.
Rider Training
At BMW Motorrad, we believe that a safe motorcycle needs to have a safe rider. We offer every rider access to qualified rider training courses for every skill level and every type of terrain. In the Burlington area, the Motorcycle Training Organization of Halton-Peel operates the only nationally recognized motorcycle training course. For more information, visit us at Budds' Motorrad and speak to one of our professional associates.