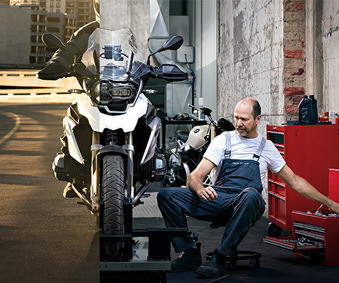 Motorcycle Service Milton
Getting the highest quality motorcycle service in Milton is easy at Budds' Motorrad. We pride ourselves on providing our clients with world class driving machines and world class customer service to go along with those machines. We understand how hard you work for your money, and how purchasing a BMW motorcycle is a big deal, and it is for this reason that we make sure we provide the service and maintenance to go along with your motorcycle. Budds' Motorrad is a well-known dealer of high quality exceptional driving machines of all styles, and when you come into our dealership looking for a bike, you will not be disappointed with the selection and our customer service.
All of the employees at Budds' Motorrad in the service department have extensive qualifications based upon rigorous training that they go through in order to meet the international BMW standard. This means that we can offer you the best quality and premium service at any time. At Budds' Motorrad, we stand for high-quality products made with innovative technology and a high level of reliability and performance. When you put all of this together, you get the optimum package for your BMW motorcycle. Our motorcycle service in Milton can ensure your bike's parts are top quality and functioning properly because every original part that goes onto a BMW motorcycle is inspected thoroughly through hard quality tests. Budds' Motorrad motorcycle service Milton in not only your reliable partner for maintenance and repairs, we can also show you everything that you can do to enhance your BMW motorcycle. This means adding certain accessories to your motorcycle, and providing you with programs meant to maintain the value of your motorcycle. Being mindful about maintaining your motorcycle for the future will allow it to remain a reliable and fascinating motorcycle for many years, and you will remain a satisfied owner as well.
Budds' Motorrad has a worldwide service network and we are here to support you actively with exceptional driving machines and optimal driving pleasure. We can offer you with motorcycle service Milton that is unlike no other, thanks to our professional expertise and ultramodern workshop equipment. If you are living in the Milton area, and you are needing motorcycle service Milton for your BMW bike, please feel free to visit us at Budds' Motorrad. We will be able to service your motorcycle in a professional and experienced manner, and you will be pleased with the results every time!