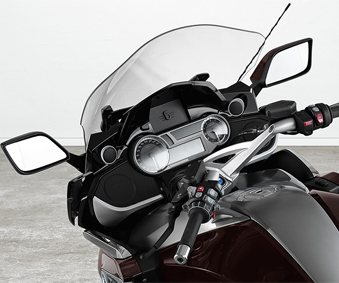 Used Motorcycle Burlington
Shopping for a top quality, used motorcycle in the Burlington area can be an enjoyable and satisfying experience if you come see us at Budds'  Motorrad.  Our motorcycles are cool, dynamic and functional.  We have everything from luxury touring motorcycles to fashionable urban bikes.  Our customer focused associates will go through all the available options with you and help you find your ultimate driving machine.
Superior Navigation and Communication
Part of the fun of owning a BMW motorcycle is to take it on a road trip, experiencing the wide-open road and the nature around you.  Whether you do this with a friend or alone, BMW Motorrad has a number of key navigation and communication tools that will make your ride a smooth and safe one.  The Navigator IV has been configured even better for motorcycle applications as it can be operated by gloved riders, even when the motorcycle is moving.  It has a large 4.3" 16:9 touchscreen with extra large buttons to increase ease of use.
The new navigation system supports numerous cell phones equipped with Bluetooth and allows the rider to make and take calls directly on its large display screen.  It also transmits its instructions via Bluetooth to a suitably equipped helmet or integrated loudspeaker so that the rider can always keep his focus on the road.
Safety Innovation
At BMW Motorrad, our commitment to greater safety began in 1976 with our development of the motorcycle helmet.  Since then we have continued our commitment to safety with our many technology innovations in both motorcycle features and rider equipment.  For more information, visit us at Budds' Motorrad and speak to one of our professional associates.